Well, what a busy few weeks it has been but two projects that have been trickling along are finally live.
This has been a revamp of a site I worked on some years ago for good friend and talented photographer ryan mcgoverne. The existing site was okay but lacked any back-end beyond a simple MySQL database, so updates came to yours truly in exchange for a beer or two on the rare occasions we got to meet up.
Ryan decided he needed something he could update himself so I adapted a bespoke CMS I had created for the website of photographer Simon Way a year or so ago. With increased confidence in jquery I was able to make some enhancements to the CMS – such as customisable thumbnails and cropping of images – as well as the front end too. On the negative side (ol' cynical me), I wish I'd had more time to spend on the overall layout and typography of the site. But at the end of the day, in terms of making the images the primary focus of the site (a good aspiration for a photographer's website) I think the result is quite successful.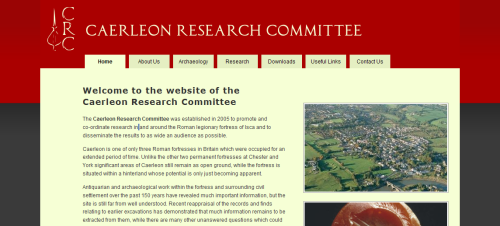 as an alumni of Cardiff University School of History and Archaeology i was approached by a lecturer there to redesign the website for the caerleon research committee: a bunch of (primarily) academic types interested in the research and investigation of the Roman legionary fortress of Isca.
It has been a fun project and one which nicely brought together my interests in archaeology and web design. I had the freedom on this project to experiment with, and ultimately dictate, the design and overall I'm quite pleased with the result, especially the page footer. Personally, not overly chuffed with the suckerfish menu (mouse dependent) but that was what was asked for so duly obliged.