How do we solve a problem like Mourinho?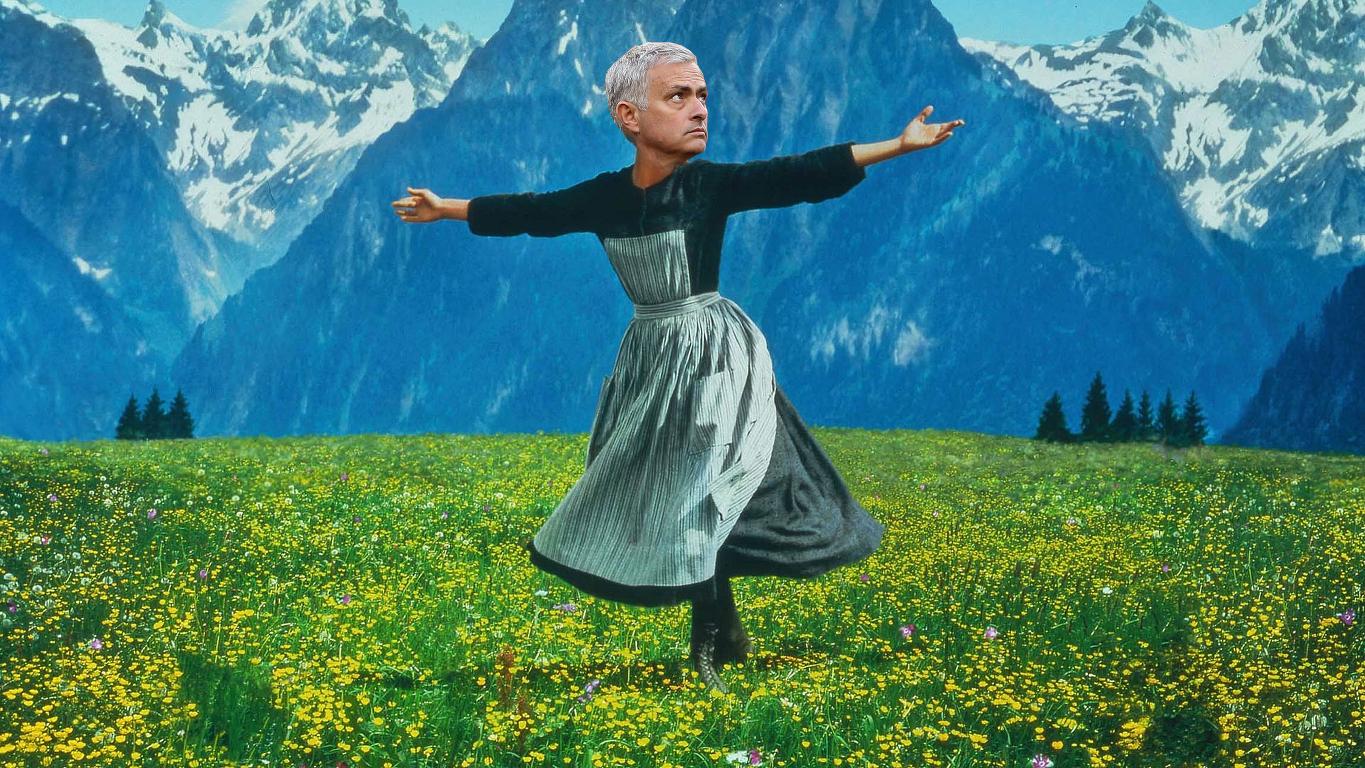 5th March 2013. At home against Real Madrid, Manchester United led 1-0 on the night and 2-1 on aggregate, looking set for a Quarter Final place. On 56 minutes Nani is sent off for a dubious red card and Madrid went on to win 2-1 on the night (3-2 on aggregate) knocking Manchester United out of the Champions League. That evening sticks in my mind for two reasons.
First, this was possibly the last time I recall Jose Mourinho – the Real Madrid manager at the time – showing humility. After the game, Mourinho claimed "Independent of the decision, the best team lost. We didn't deserve to win but football is like this." I remember at the time this post-match interview almost felt like a job interview for taking over when Fergie finally decided to hang up the hairdryer.
Secondly, that evening – for me at least – represented the start of things going wrong for United. Two months after that defeat Alex Ferguson was to announce his retirement at the end of the season and although they were to go on to win the Premier League that year, things were not all well at Old Trafford.
Good Grief?
Fergie's departure was always going to leave a void that would be incredibly hard to fill. You cannot manage a football club for over 25 years without creating a degree of dependence. But he had for some time surrounded himself with staff and senior players who adhered to his philosophy and to whom he could delegate responsibility.
Ferguson's retirement had been suspected for a while and life without him seemed unimaginable but inevitable. And then David Moyes appointment was announced.
I'd always held a degree of respect for David Moyes. He had seemed to command loyalty amongst the Everton players and supporters, made the most with very little and regularly managed to grind out results when needed (including a frustrating away 4-4 draw with United in the Premier League finale of 2011-12). But his first move on arriving at Old Trafford was to clear out the staff that had proved so successful and loyal to Ferguson's footballing philosophy.
Let's be clear – things weren't all rosy at United when Fergie left. There are many that would claim he left because he could see what was happening and that having built the club around three core footballing dynasties: the early Premier League years; the Treble-winning squad and latterly the post-Glazer years – a fourth seemed beyond his grasp, especially with the growing strength and financial resources of Manchester City.
However, a successor to Ferguson had to build on his successes and – perhaps more importantly – acknowledge his philosophies. The backroom clearout by Moyes – bringing in much of his staff from Everton – proved to undermine his tenure at Old Trafford before it had even begun.
Roll on to 2018 and we have seen Moyes come and go, van Gaal given a slightly longer (but equally unsuccessful) bite at the cherry and now Mourinho into his third season at the helm after his arrival in 2016.
Three games into the season we have had two defeats – to Brighton and Tottenham Hotspur – and an unconvincing but briefly reassuring victory over Leicester City. So how can we judge the Mourinho project and is it too soon to consider showing him the door?
Journey or Destination?: a tale of two philosophies
Ferguson had been an authoritarian when it came to how he wanted his teams to play football. And – as we well know – when a player didn't fit into how he wanted to play or saw themselves above the team and the club they were shown the door. But Ferguson was also happy to delegate and appoint others to carry his philosophy forward. And this is the key word which I have mentioned a number of times already: philosophy, an underlying belief in how to play. At its simplest for Ferguson this meant scoring more goals than the opposition, but this was usually (but not always) built around a solid defence that can release the ball quickly, a midfield spine that can protect and distribute the ball effectively and foremost a strong attack that used space, freedom and creativity to unlock the opposition. It also meant absolute trust in an individual to carry this philosophy forward on the pitch.
We can contrast this with Mourinho who is, above all, an autocrat. He demands total respect from his players for his style of play which is more about bettering the opposition that it is about beating them. Here then his style lacks philosophy because it is tailored for the opponents he faces. And historically this has been one of his greatest strengths. But without an underpinning ideology, it becomes hard to find followers, whether that is in the dressing room or on the terraces. And furthermore, it deprives those on the pitch from offering leadership because it is fundamentally a perspective and approach that lacks trust in others.
For Ferguson the destination was important. You can't be one of the most successful managers of all time without a hunger to win trophies. However, I think for Ferguson the journey was equally important because it was through attacking and attractive football that you can carry the support of your fans and make ten men feel like a hundred (to paraphrase Rogue One).
For Mourinho, his style of football has always been about the destination. A boring 90 minutes is justified if it results in victory. This is why he loves Fellaini – because he provides the perfect means to break up football, to stop opponents playing, to slow down the game. That's not to say Mourinho (or Fellaini) is incapable of playing attractive, flowing football. Just that this is usually only when the circumstances allow.
Trust and Man management: warm arm or cold shoulder?
Trust is an important part of being a manager. To again quote Rogue One (you can tell I like this film), trust goes both ways. One of the main issues I think at Old Trafford at the moment is that the manager does not trust his players and the players don't trust the manager. Take the captain for example. Historically and certainly under Ferguson, the captain was the manager's deputy on the field. It is somebody that shares and understands the manager's vision for how a game should be won. In the last two seasons, it is hard to see a player that has filled this role for United, and this is in no small part to the fact that it is hard to see the manager's vision for how to play. Two seasons, five transfer windows and £389m in transfer fees later and Mourinho still doesn't seem to know his best way of playing or his best starting XI. Furthermore, his signings are not about building foundations. No wonder the players sometimes seem lost on the pitch and their creativity stifled.
It takes time to build a philosophy. But Mourinho has always been about immediacy and throwing money at holes in his squads. This fits in well with the business objectives of Manchester United PLC because big name, expensive footballers help to market the brand and are as much about competing for sponsorship deals as they are about competing for titles and trophies. But part of the DNA of Manchester United has also been about bringing in young talent to flourish. This was something Ferguson excelled at. But again this comes back to trust. For young players to flourish they need to be trusted and given both opportunities and responsibilities. What's more, they need encouragement and this is not the Mourinho way.
Negativity breeds negativity: ego and the blame game
Mourinho is ruled by the ego. On the one hand, everything about the way he manages revolves around him. He demands complete respect from his players, fans, boardroom and the media. His victories and trophies are entirely down to his tactics. But on the other hand, when things go wrong he cannot accept responsibility. This is why he always falls out with players and club boards. And this is why the post-match interview from 5th March 2013 sticks in my mind.
Whereas Ferguson was completely happy to delegate responsibility to his backroom staff and players, Mourinho only seems able to delegate blame. If we are not winning games it is because he has not been able to buy the right players, or the players are not performing for him. And this negativity can only go so far. Contrast the last twelve months at Manchester United to Klopp's Liverpool, Guardiola's Manchester City, Pochettino's Tottenham or Southgate's England squad. What these are all share is a group of players that want to play for the manager because when the chips are down the manager protects them, and when things are going well they are shown praise. Furthermore, they are given trust on the field to play with freedom and above all, enjoy themselves.
And this is what saddens me most of all at United. Because in our squad there is a wealth of talent that I believe can genuinely compete against the best teams in the World. But at the moment they can't because they have a manager that has set them up to fail before they have started. Moaning that "this will be a difficult year" or that he "wouldn't pay to watch that!" if he were a fan before a ball has even been kicked in earnest. What must that do to a players confidence? What must that do to a sense of team spirit or "playing for the badge".
The motto of Manchester United is 'Youth, Courage, Greatness' and for me, Mourinho is only attempting to tick one of these boxes and that is for himself. So please. Enough is enough. For a while, I could sacrifice the journey for the destination but now it is barely justified, even if we win trophies. It is no surprise to hear United fans are looking enviously over to Liverpool and City because they play with a philosophy, they play with passion and they play for their manager.
And that seems a long way off at Old Trafford.
Comments