Using Divvy for rapid testing of Responsive Design
Like many others I'm getting quite into this responsive design malarkey and working with media queries has completely changed how I approach creating my CSS files for a website.
Whilst there is no substitute for testing on actual devices and we should exercise caution at designing for predetermined breakpoints, I've found having a quick way of checking a design at different viewports on my Mac has massively helped me working on responsive website designs.
I'm a big fan of Divvy (also available on Windows) which provides a quick tool for resizing windows to predefined sizes on a 6×9 grid. The nice thing with Divvy is that you can set keyboard shortcuts for pre-defined blocks.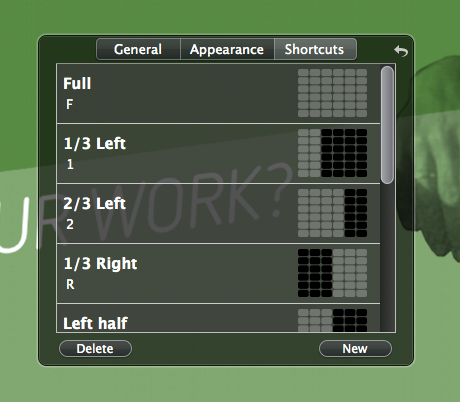 When working on media queries in my CSS Divvy has become an invaluable part of my testing process. I've got a keyboard shortcut for Divvy mapped to ⌘⇧D and I've set a range of common jump points which on my 1440 × 900 13" Macbook Air works out as:
i (iPhone-ish) = 1/6th (240px)
1 = 1/3rd (480px)
L (Left half) = 1/2 (720px)
2 = 2/3rd (960px)
F (Fullscreen) = Full (1440px)
This is pretty great for testing against a broad range of device widths – mobile, 480px and above, 768px and above and 1024px and above – and whilst nothing beats testing on actual devices I've personally found Divvy to be an invaluable way to rapidly test responsive designs at a range of viewport widths.
Comments
Cole,
bit late to the party on this one – but what an excellent little tool :-)
Thanks for this ;)